Our Team Members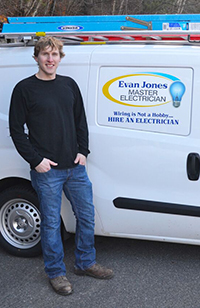 Eric Wotton was the first official employee at EJME. Hired at 18 years old in 2012, Eric quickly developed into a permanent part of the team. After obtaining his Journeyman License, and serving as a Foreman for years, Eric and his wife Emma (his high school sweetheart) moved back to Northern New Hampshire, where they both grew up. In the Summer of 2020, Evan and Eric collaborated to launch EJME North, serving the Twin Mountain/Littleton/Franconia/Berlin area. Twelve months later, we hired an apprentice to work with Eric daily to better serve our growing list of clients. EJME shares systems and finances and office resources with EJME to allow Eric to be out in the field everyday doing what he does best. Eric's character, hard work, intellect, and exceptional customer service skills continue to set him apart as an up and coming leader in the industry.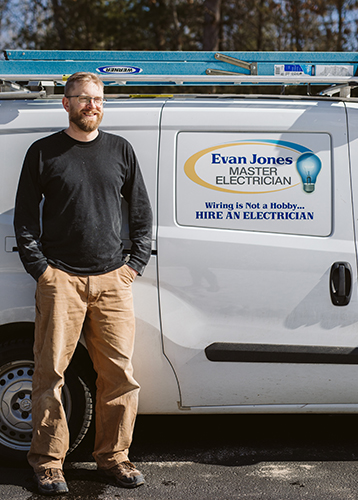 Wesley (Wes) Jones is a journeyman in the State of NH, and a foreman with EJME. Hired in 2013, he was EJME's second employee, though Wes and Evan have worked together in the trade, off and on, for over a decade. Wes immediately brought value by allowing us to serve multiple customers at once by putting a second van on the road. Wes and his wife Katie live in Goffstown. Wes's easygoing demeanor, hard work, and excellent people skills endear him to our customers.


Stephen Switzer is a uniquely talented young man who joined the EJME Team in 2017 as an apprentice, with several years of electrical and other construction already under his belt. Stephen has quickly grown into a leadership role at EJME, and has served as a Foreman and a Journeyman for the last several years. Stephen lives in Greenville with his wife, Kayla, and their four young children. Stephen's background includes working as a youth pastor, which helps explain his giftings as a coach and a teacher on the EJME Team.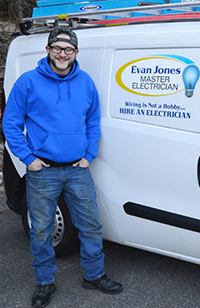 Cody Crystal is truly a home-grown son. He began his electrical career at EJME when he joined the Team in 2017. Prior to that, Cody had experience in the construction industry. Since joining our Team, Cody has risen to the level of Foreman. Cody's ability to connect with customers and people from all walks of life is unparalleled. Cody lives in Wilton with his lovely wife and family. When he's not doing electrical work, he's probably hanging with friends, gaming, or pursuing one of his many hobbies. If you talk to Cody about Star Wars, you'll be his friend for life.

Phil LeClair joined the EJME Team in 2021, shortly after acquiring his NH Journeyman's license. He immediately assumed a role as Foreman. Phil brings an extensive background in commercial work to our Team, as well as residential experience. Prior to his electrical career, Phil worked for years in the landscaping and property management world. Phil's laid back personality and easy way with customers and other team members have made him a favorite. Phil lives with his lovely wife and two young daughters in Hooksett. He's a deeply committed family man, who adores his family.