Our Team Members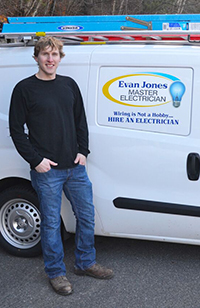 Eric Wotton was the first official employee at Evan Jones, Master Electrician. Joining the team in 2012, Eric has completed his required schooling and been promoted to foreman in 2017. Eric brings previous experience in construction, roofing, and landscaping. Eric's excellent people skills and commitment to excellence have made him an excellent addition to the team. He lives in Lyndeboro with his high school sweetheart(and new bride) Emma.
Eric is a journeyman and has been serving as a foreman since 2017.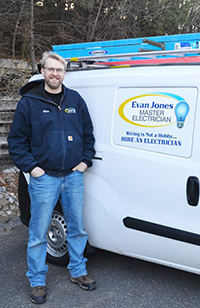 Wesley (Wes) Jones is a journeyman in the State of NH, and a foreman with Evan Jones, ME. He joined the team officially in 2013, though Wes and Evan have worked together in the trade, off and on, for about 12 years. Wes and his wife Katie live in Goffstown. Wes's easygoing demeanor, hard work, and excellent people skills endear him to our customers.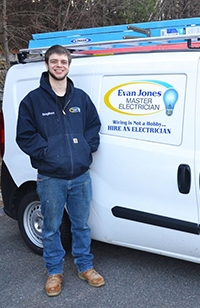 Stephen Switzer joined the team in January of 2017, and has brought instant value to the team with his skill set and his quick smile. Stephen brings years of construction and remodel experience, as well as 4 years of electrical experience with more of a commercial background. Recently promoted to foreman, Stephen and his wife Kayla live in Nashua with their three young children.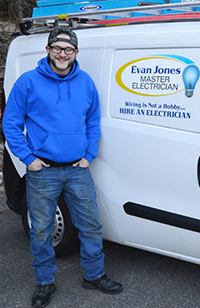 Cody Crystal is a second year apprentice. He lives in Wilton with his fiancé, Kristina, and their daughter. Cody joined the EJME team in 2017, and is a well-loved member of the team here.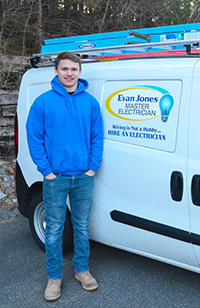 Josh Shaw is a first year apprentice. He graduated from Milford High School in 2018, and started with Evan a week later! Josh is an absolute workhorse, and is pursuing a promising career in the electrical trade.