Residential Service Calls
Flickering lights, tripping circuits, no power in one room of my house, can't get my circuit breaker or GFI outlet to reset, an outlet smells hot, a switch crackles when I flip it, my dimmer is hot to the touch, my lights won't turn on – these are the service calls that we get all the time.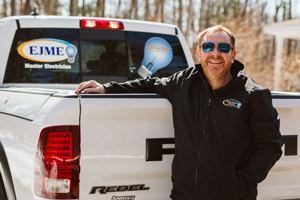 If you are experiencing any of these symptoms, give Evan a call. These are often a quick fix, and can be dealt with painlessly and with very little cost. We are available for emergency service calls to help get your life back to normal and to keep you safe in the process.
Remember that "Wiring is not a hobby!" If you are experiencing electrical problems, your best choice is to call is to a professional, licensed, and insured electrician. Why trust the safety of your home and family to your neighbor next door who "knows a lot about electricity" because his uncle used to be an electrician. This is what we do every day, and we can help you quickly and safely.
Even if you just have a question – something doesn't seem quite right – feel free to call, text, or email Evan. There is no charge to advice given over the phone, and sometimes we can walk you through a quick reset and save you the cost of a trip.
If it's more complicated than that, we can help you out. We have technicians who are skilled at finding what is wrong – and fixing it!
With three trucks and vans on the road, we are never far away. We primarily service Bedford, Merrimack, Amherst, Hollis, New Boston, Brookline, and Milford, NH. As of July 2020, EJME North is also serving Twin Mountain, Berlin, and Littleton, NH, as well as the surrounding areas.
Contact Evan at 603-289-1589 for help!