Light Commercial
While residential wiring is our bread and butter, we also do light commercial work – often at the request of our residential customers, coming to their places of business.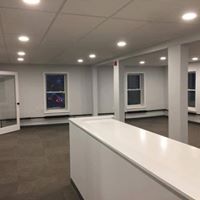 We love to commercial fit-ups, like retail storefronts and office buildings. Whether you are rearranging a few walls or adding a few outlets, or purchasing/leasing a brand new-to-you space, we can help you get the most out of your space. Having the right lighting in the right place goes a long way toward keeping workers happy and productive. And having the right power in the right place goes a long way toward increasing productivity and efficiency, and minimizing workplace frustrations.
We also love doing commercial lighting projects, changing out old T12 and T8 florescent fixtures and replacing them with state-of-the-art LED light fixtures. The quality of light color and lumen output, together with the energy savings and the value to the environment, make commercial lighting upgrades an excellent choice for retail spaces, warehouses, and offices. Are you tired of having flickering lights that work some of the time? Tired of replacing bulbs every week? Tired of paying an electrician to change out ballasts multiple times every year? Consider upgrading your entire space – room by room, or all at once – to a more energy-efficient, low-maintenance LED lighting package. We can work with our suppliers to find the right product that fits your budget and specifications.
We are also equipped to do basic TV and Cat5 (internet) wiring. Whether it's hanging a TV or a projector and a screen in your conference room, or wiring for phone and internet to each desk space, we can work with you and your IT team to get you wired up quickly and efficiently. And if your data/internet needs are above and beyond our scope, we have the partners to help you find the high-end solutions you need.
Evan Jones Master Electrician primarily services Bedford, Merrimack, Amherst, Hollis, New Boston, Brookline, and Milford, NH. As of July 2020, EJME North is also serving Twin Mountain, Berlin, and Littleton, NH, as well as the surrounding areas.
Contact Evan and his team today!