Wiring for New Construction and Additions
New construction and additions make up a sizable part of our workload. While we have never been dependent upon the new construction market to stay afloat, we love wiring new homes for our customers.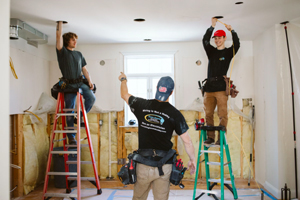 Whether you are building your first home on a tight budget, or you are designing and building your dream home, we'd love to partner with you to make your dreams a reality. We can bring our decades of experience to the table to help with lighting design and electrical layout.
We work with over a dozen local builders and remodeling companies in wiring additions and substantial remodels. Whether you are adding a sunporch, a great room, a master suite, or designing an in-law space for multi-generational housing, we have experience in wiring to help you achieve just what you have in mind.
We also wire tons of finished basements. Whether you are creating a space for your kids to play, a space for your Man to hang out with his buddies, or creating a space for guests to come and stay for a week (or longer!), we can help you transform your dark basement into a well-lit, usable, fun living space for your family and friends!
Detached garages, barns, and carriage houses are rising in popularity. If you are considering a detached building for your vehicles, storage, recreation, or business, let us partner with you in designing and building a well-lit space that you will enjoy for years to come.
We also have experience in wiring post and beam structures and traditional log homes. These homes require a greater degree of pre-planning and teamwork. We are more than happy to work with home owners and contractors to help make your project move smoothly and successfully.
Another of our specialties is completing the wiring on your new manufactured homes. Gone is the stigma of buying a "trailer" – manufactured homes have become an excellent choice for many families, and we can partner with you and your home builders to complete the project quickly and painlessly.
Contact Evan at 603-289-1589 to learn more, or fill out the form below! Evan Jones Master Electrician primarily services Bedford, Merrimack, Amherst, Hollis, New Boston, Brookline, and Milford, NH. As of July 2020, EJME North is also serving Twin Mountain, Berlin, and Littleton, NH, as well as the surrounding areas.