Residential Generator Work
We love wiring generators for our customers!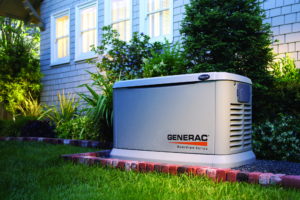 Having dependable standby power is becoming more and more important these days. What do you do when the power goes out? For a few hours? A day? Even a few days? For the cost of a refrigerator full of food and a couple of nights in a hotel – not to mention eating out – we can get you set up to be prepared for the next emergency.
There are several different types of generators, but they fit into two basic categories – portable and standby. A portable generator is an excellent choice for many customers. You can buy it yourself and we can wire it for you very affordably. It gives you a safe and convenient way to protect your home by giving you power for water, heat, refrigerator, and a few basic lights and outlets. We do many of these every year, and can get in and out quickly with little impact to our homeowner customers.
A standby generator is a much more significant project and cost, but is the best choice for many customers, as well. EJME is not currently installing or maintaining standby generators, but we have a trade partner to whom we'd be happy to refer you.
Give Evan a call at 603-289-1589 to discuss your options, and to get a no-obligation estimate. Do it for safety. Do it for convenience. Do it for peace of mind.
Evan Jones Master Electrician primarily services Bedford, Merrimack, Amherst, Hollis, New Boston, Brookline, and Milford, NH. As of July 2020, EJME North is also serving Twin Mountain, Berlin, and Littleton, NH, as well as the surrounding areas.