Residential Appliance Circuits
You've bought a new appliance and brought it home, or had it delivered. You go to plug it in, and suddenly you have a problem. The cord doesn't fit into the plug because the configuration is wrong. Appliance circuits may be the issue!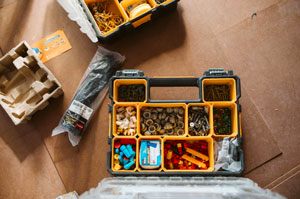 We can do everything from changing a plug or cord to running a new dedicated circuit back to your electrical panel.
Whether you have purchased a new washer or dryer because your old one died and you have laundry piling up – or maybe you got a new kitchen appliance from a loved one – Evan and his team can help you out.
Whether you are calling in an emergency or because you got a new toy, we can help you get up and running quickly.
Clothes washers, dryers, microwaves, stoves, cooktops, wall ovens, dishwashers, disposals, sump pumps… we can wire for all of them.
Another concern we encounter frequently is circuit breakers or fuses tripping due to heavy usage. Often times we can help you understand how to avoid this nuisance.
Air conditioners and space heaters are notorious for tripping circuit breakers – and causing electrical fires. Air conditioners and electric heaters use a lot of power, and are potential safety hazards in any home. Call Evan at 603-289-1589 to discuss the new heating and cooling equipment you are buying, and let him put your mind at ease.
Today's appliances are much more energy efficient than those of a previous generation. Upgrade today and let us help you make sure you are operating your new appliances safely.
If you are just beginning your search for a new appliance, we partner with several local independent appliance stores. For those individuals that are looking for the kind of customer service that you won't find at a big box store, we can help you find the kind of sales and service you are looking for.
Evan Jones Master Electrician primarily services Bedford, Merrimack, Amherst, Hollis, New Boston, Brookline, and Milford, NH. As of July 2020, EJME North is also serving Twin Mountain, Berlin, and Littleton, NH, as well as the surrounding areas.
Contact us to learn more!