Residential TV Wall Mount Installations
Yes, we install TV's. While we are not audio/video specialists (but we know one you will love), we do frequently wire for, move, and perform TV installs for our customers.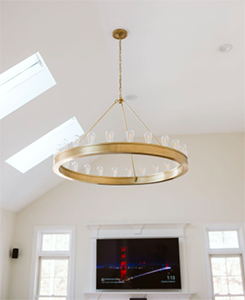 Today's TV's are bigger than ever, and very cool (you know you, or your loved one, wants one). Yes, you already have one, or two, or three, or four, but you really need a bigger one! And you are really afraid that if you install it, you'll drop it!
Don't be afraid – and don't drop it! If you've tried bribing your friends and neighbors with free beer, and you still have no TV on your wall, call Evan and his team at 603-289-1589 to install it for you.
We can install them on your wall, over your fireplace, in your man cave, or wherever you want it. And we can make it so that you aren't looking at any unsightly cords dangling down the wall underneath your favorite new toy!
Want your equipment in one area, and your TV in another – we can help with that, as well.
You focus on buying the biggest and coolest TV in your neighborhood so you can invite all your friends over to watch the game – we'll focus on getting your TV safely and securely attached to the wall and hiding the cords. If you want, you can even have all of your friends think you did it yourself – we won't tell!
Evan Jones Master Electrician primarily services Bedford, Merrimack, Amherst, Hollis, New Boston, Brookline, and Milford, NH. As of July 2020, EJME North is also serving Twin Mountain, Berlin, and Littleton, NH, as well as the surrounding areas.
Contact Evan and his team today!